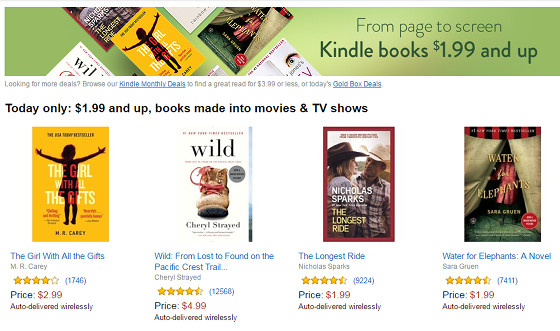 Every few weeks lately Amazon has been offering a list of discounted Kindle ebooks for their Gold Box Deal of the Day.
Today they are doing it again. Like usual it's a 1-day sale only so it's only valid for today, September 18th.
This time around the deal centers around books that were made into movies and TV shows.
There are sixteen books on the list, including popular titles like The Godfather, Eleanor & Park, Lone Survivor and The Walking Dead.
There are a number of highly-rated titles on the list. Most have well over 1000 reviews, a couple have more than 10,000, and most of the ebooks are priced at $1.99 and $2.99.
The regular prices are quite a bit higher than that so now is the time to get them if you see something that you like.
Check back tomorrow for the weekly roundup of ten free Kindle books!