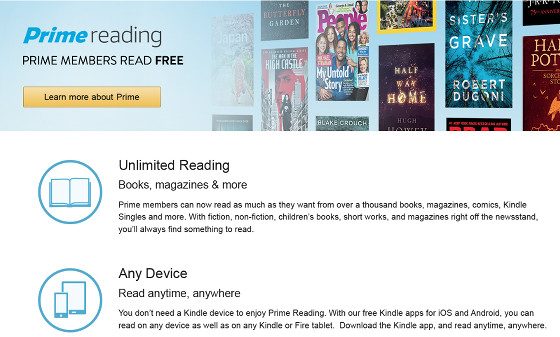 Amazon has some new goodies for Prime members today. They've just introduced a new unlimited reading library for Prime members called Prime Reading that grants access to a free selection of Kindle books, magazines, and other content. No Kindle required; a Kindle reading app is all you need.
Prime members also currently have access to an exclusive, limited-time deal on Kindle ereaders that takes up to $50 off.
The Kindle Voyage is actually in on the sale for a change and it's the one being discounted the most. It's marked down by $50 and starts at $149.
The Kindle Paperwhite is on sale as well. It's marked down by $30, starting at $89 for the Wi-Fi model.
The entry-level Kindle Touch is being discounted by $30 too. It's only $49.
Even if you're not a current Prime member, the prices are low enough that you could buy a 1 month subscription to Amazon Prime for $10.99 and still get a considerable discount.
Plus they pretty much never have sales on the Kindle Voyage for non Prime members, and when then do put the Paperwhite on sale it's usually $99 for regular customers so with the $89 Prime price it's only the difference of one dollar.