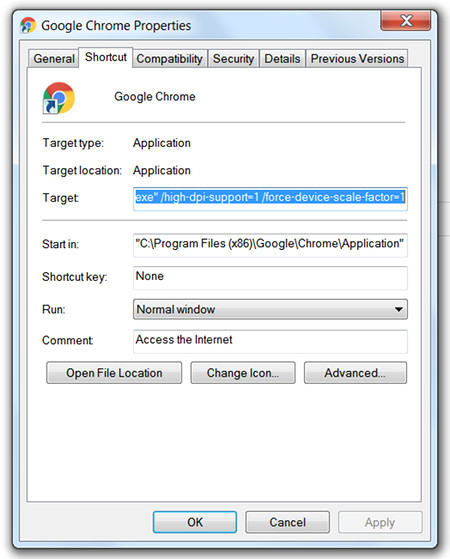 Today when I opened the Google Chrome web browser on my Windows desktop PC, I was greeted with an unusually large interface where everything looked zoomed-in, even the UI elements like tabs, the url bar, and bookmarks were way too large.
So then I had to spend the next several hours (okay maybe it was more like several minutes but it felt like hours) finding a way to get it to go back to normal.
It turns out there's a simple workaround. It's not a permanent fix because Chrome is essentially doing what it is supposed to be doing.
With the Chrome 54 update they made it so Chrome can detect the DPI setting on your computer so that the web browser will be scaled accordingly.
Google Chrome didn't used to pay attention to your Windows DPI setting. Now it does, and that's the root cause of the large interface issue.
If you have the DPI scaling set to 125% or greater on your Windows computer, then the Chrome browser will scale differently depending on that setting.
I have the DPI scaling on my Windows computer set at 125% because I could never stand everything being so tiny on a large screen. I was glad to find a workaround to fix Chrome because the first option below is no good for me…
Option #1
The obvious fix is to just set your computer's DPI scaling back to 100%. That will make Chrome appear how it used to but everything else will be smaller, so it's not a very good fix.
Just type "dpi" into your Windows search bar and open the top result, "Make text and other items appear larger and smaller" (at least that's how it is on Windows 7).
Option #2
Right-click on the Google Chrome shortcut or start menu icon and select properties.
Enter the following code at the end of the text in the Target field:
/high-dpi-support=1 /force-device-scale-factor=1
Make sure there's a blank space between the .exe" part and the first forward slash, like shown in the picture above.
Hit Apply and then restart Chrome.
If the scaling isn't back to normal, make sure to launch Chrome from the location specified above. For example, it didn't work at first for me because I was opening Chrome from a link pinned to the taskbar. Unpinning Chrome and dragging it back from the start menu fixed the problem, but it's not a permanent fix anyway because other links to Chrome (like hyperlinks in PDFs) can trigger the larger UI as well.
Option #3
Update: Here's a third option, and it's the best one to use if it works for you. It didn't work for me with Windows 7 but some people have noted in the comments section below that it works for them so it's worth adding to the list.
Right-click the Chrome icon from the start menu then select > Properties > Compatibility > and Check the box for "Disable display scaling on high DPI settings".