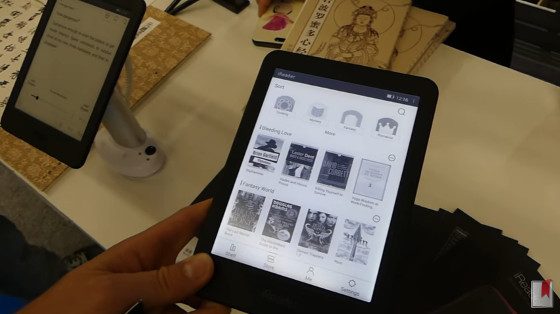 Among the ereaders on display at the Frankfurt Book Fair was the iReader 2 from a popular Chinese ereader company that is looking to expand into other counties.
Apparently they've sold over 1 million iReader devices in China and hold a 40% market share, with over 500 million registered users counting their iOS and Android platforms.
That sounds like a company that actually stands a small chance to competing against the likes of Amazon and the Kindle.
They are expected to start expanding into Europe later this year, with prices "cheaper than Amazon".
At one point in the video below he briefly mentions something about the iReader coming to the United States as well but then doesn't elaborate on it.
We could really use another brand of ereader here in the US so hopefully we'll see an iReader become available sometime in 2017.
The iReader 2 model that is shown in the video below has a 6.8-inch E Ink screen with a resolution of 1440 x 1080, so it's similar to the Kobo Aura H2O. It has a memory card slot and Bluetooth for audio playback.
iReader 2 at Frankfurt Book Fair
via: Lesen.net