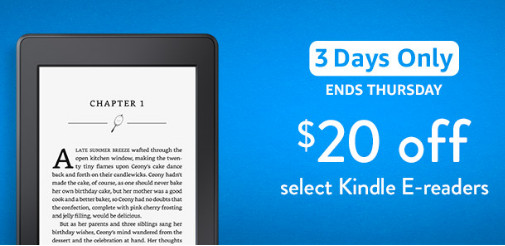 Yesterday afternoon Amazon decided to put all of their Kindles on sale except the Kindle Oasis.
It's been awhile since Amazon has had a sale for non-Prime members but that's what they are doing this time around.
The sale takes $20 off the regular price of each Kindle. It's a three-day sale that ends on Thursday.
Kindle – $59
Kindle Paperwhite – $99
Kindle Voyage – $179
Kids Kindle Bundle – $79
It's good to see the Kindle Voyage getting in on the deal for a change.
They never used to discount it for regular customers, just very rarely for Amazon Prime members.
Unfortunately this sale isn't as good as the last one that took $30 off the entry-level Kindle and Kindle Paperwhite, and $50 off for the Voyage. But that was a Prime members exclusive deal and Amazon always seems to discount things more for Prime members.
If you are a deal hunter and plan on doing a lot of shopping this month and ordering from Amazon for Black Friday and Cyber Monday, now would be a good time to take advantage of Amazon's one month Prime membership for $10.99. The Kindles will most certainly go on sale for Prime members again this month for lower prices than the current sale.