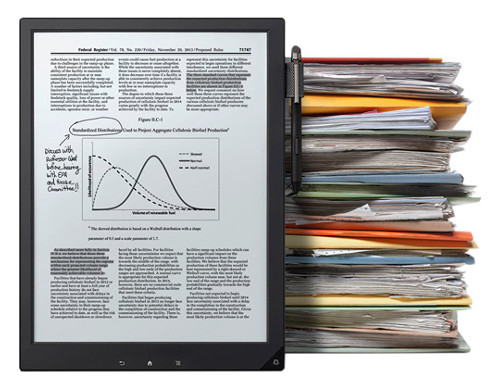 It looks like Sony's specialized PDF reader has reached the end of the line.
It was listed as out-of-stock for several weeks after it went on sale this summer for $200 off the regular price, and now the product page for the Sony DPT-S1 at B&H carries a big red "DISCONTINUED" sign.
The device used to sell from Amazon as well, but new ones have been gone for awhile now and it's only available used.
That pretty much just leaves the Onyx Boox Max as the only option to purchase when it comes to an ereader with a 13.3-inch E Ink screen.
Hopefully more companies will start to offer larger ereaders to take the Sony DPT-S1's place. The 10.3-inch Boyue T103 looks like an interesting option but it probably won't get released anytime soon.
For those hoping that Sony would come out with a second generation model, a DPT-S2, it seems very unlikely at this point. There hasn't been any news or leaks about a new model and companies generally release a new model before discontinuing an older one.
The ebook industry used to be a lot more interesting when Sony was involved and selling ereaders. Too bad their last remaining E Ink reader has now been discontinued.