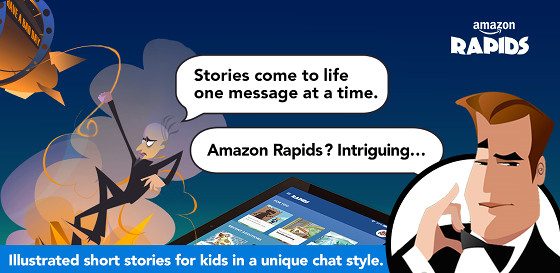 A few days ago Amazon introduced a new app called Amazon Rapids that brings a new style of reading to kids.
The app includes illustrated short stories that are told through the point of view of characters chatting with each other. Amazon gives an example of an alien texting about invading Earth and two chickens debating if they should cross the street.
The Amazon Rapids app is available for iOS and Android devices, and of course Fire tablets too.
The app includes hundreds of original stories, with a few dozen new titles added monthly, says Amazon.
Rapids is a subscription services with an introductory rate of $2.99 per month to get unlimited access to the app.
This is a separate service from FreeTime Unlimited, which also costs $2.99 per month and is designed to offer kids access to books, movies, games, and apps.
It's kind of strange for Amazon to come out with this second subscription service dedicated to offering content for kids when they already have FreeTime Unlimited. One difference with Rapids is that it's available for iOS and Android whereas FreeTime Unlimited is only for Kindles and Fire tablets.
The concept of Amazon Rapids is quite unusual, but upon closer inspection it's really not much different than comic books. Here's a quote from the press release:
"Many kids already love using phones to chat with friends and family," said Rohit Agarwal, General Manager of Amazon K-12 Education. "We wanted to see what authors and illustrators could create with an app that made it easy to tell stories that way. We're excited to share Amazon Rapids with parents and their kids."
Amazon claims that the content is intended for kids ages 7-12. When I was twelve I was reading books by Stephen King and stuff like the Exorcist. Things have sure changed. Now text messages are considered a form of reading…