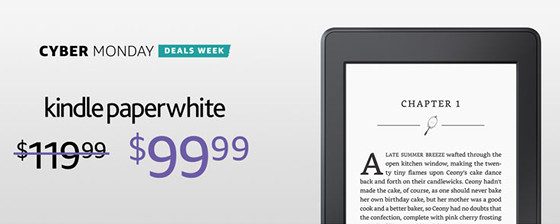 Amazon has already started promoting their deals for Cyber Monday.
Big surprise, most of the sales for Amazon's devices are the exact same deals that have been ongoing for the past week as part of their Black Friday deals so not much has really changed in that regard.
Kobo has added a couple of lukewarm sales on their ereaders, but nothing particularly interesting.
The Nook Glowlight Plus remains on sale at B&N for $99, along with Nook tablets.
A number of Samsung tablets are still marked down as well, and some have already sold out (at least for the time being).
On the topic of reading, Amazon has a list of sales on their Cyber Monday press release for deals on books that will go live tomorrow:
Book Deals
Save up to 85% on select Kindle books, including best-sellers like Game of Thrones by George R. R. Martin, Truly Madly Guilty by Liane Moriarty, and The Boys in the Boat by Daniel James Brown
Save up to 25% on Hamilton: The Revolution
Save up to 33% on Secret Garden: An Inky Treasure Hunt and Coloring Book
Save up to 36% on Guinness World Records 2017
Save up to 20% on Batman: The Killing Joke | Deluxe Edition
Save up to 20% on Deep Run Roots: Stories and Recipes from My Corner of the South
Save up to 22% on Adulthood is a Myth: A Sarah's Scribbles Collection
Cyber Monday Deals Week in Kindle Books
Update: Subscriptions for Kindle Unlimited are up to 40% off for Cyber Monday.
List of Tablet Deals
Fire Tablet – $33 ($16 off)
Fire HD 8 – $59 ($30 off)
Fire Essentials Bundle – $51 ($15 off)
Fire HD 8 Essentials Bundle – $77 ($25 off)
Fire Kids Edition Tablet – $64 ($25 off)
Fire HD 10 (5th gen) – $159 (refurbished)
Samsung Galaxy Tab A 7 – $94 ($55 off)
Samsung Galaxy Tab A NOOK 7 – $99 ($40 off)
Samsung Galaxy Tab E Lite Kids – $77 ($52 off)
Samsung Galaxy Tab E 9.6 – $147 ($82 off)
Samsung Galaxy Tab A 10 – $197 ($102 off)
Huawei MediaPad T1 – $49 ($50 off)
List of eReader Deals
Kindle Touch – $49 ($30 off)
Kindle Paperwhite – $99 ($20 off)
Kindle Voyage – $169 ($30 off)
Kindle Essentials Bundle – $84 ($45 off)
Nook GlowLight Plus – $99 ($30 off)
Kobo Touch 2.0 – $89, comes with free sleepcover
Kobo Aura – $99 ($30 off) – Also at Kobo
Other Cyber Monday Deals Online