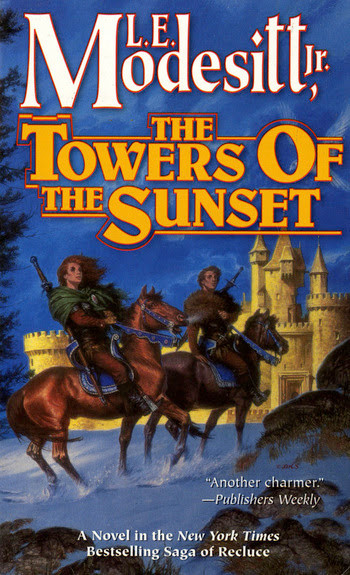 It's the first day of December so you know what that means: it's time for Tor.com to offer another free ebook for the next week just for signing up for their newsletter.
This month's freebie defines the term "epic" fantasy. The ebook is called The Towers of the Sunset and it was written by L. E. Modesitt Jr.
This month's free ebook choice is a bit of a head-scratcher.
For some odd reason Tor elected to offer the 2nd book in an 18 book series (with more installments coming).
You can't just skip the first book an epic fantasy series—that doesn't make any sense on any level.
Luckily the 1st book in the series is on sale for only $2.99 at Amazon and Kobo.
You can download The Towers of the Sunset from Tor.com for the next week just by giving your email address.
The ebook currently sells for $8.99 so being able to get it for free is a nice perk.
Tor's free ebooks are available in ePub and Mobi formats, both DRM-free so they'll work with any ebook readers or reading apps.
Here's the description for the book:
Creslin, son of the Marshall of Westwind, flees an arranged marriage; is enslaved by the White Wizards, escapes, and enters a marriage of convenience to Maegara, the white witch. Their attempt at building a new life and society brings untold dangers, and threatens to shift the balance of the world, leading to consequences both expected and unforeseen.