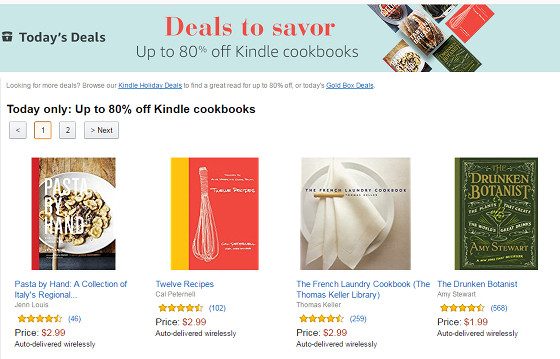 Amazon has been having a lot of 1-day only sales on Kindle books lately.
Today they are taking up to 80% off the price of Kindle cookbooks as one of their main Deals of the Day.
The Kindle ebook sales are usually for fiction titles so at least it's something different this time around.
There are 37 cookbooks on the list, covering a wide range of cooking styles.
Most of the books are priced at $2.99. Some are less, some are more. All of them have at least a 4-star rating and most are closer to 5.
It's a good time of year for cooking so it's a timely theme!
This is a 1-day only sale for December 6th, 2016.
Don't forget the 10 free Kindle ebooks post from yesterday if you're tired of buying things. 😀