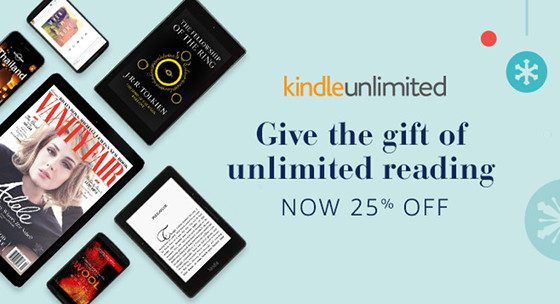 Amazon's ebook subscription service, Kindle Unlimited, is on sale today as one of Amazon's deals of the day.
They are taking 25% off the regular price of a 12-month subscription to Kindle Unlimited.
That takes the price down to $88.99 from $119.88 for a 1-year subscription.
At first I thought this was another 1-day only sale but now I'm not sure. They don't specify an end date anywhere so it might be ongoing for a few days.
The deal can be gifted as well so that you can give it to an avid reader for a Christmas gift.
The cool thing about that is they can exchange it for an Amazon gift card if they'd rather spend the money on something else.
Kindle Unlimited includes a library of over 1 million books that you can read as much as you want anytime. They also have several thousand audiobooks to listen to and some current magazines as well.
You can find more information about Kindle Unlimited from the Frequently Asked Questions help page at Amazon.