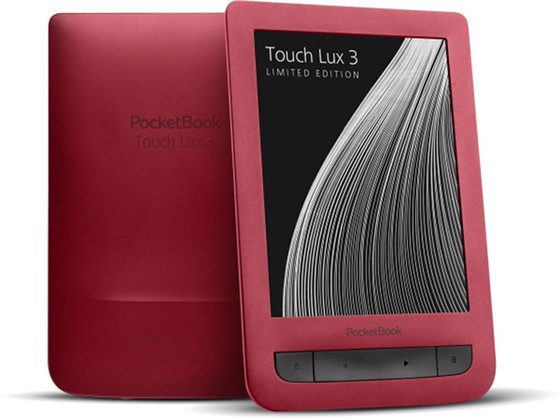 A few months ago Pocketbook released a limited-edition ruby red version of their Pocketbook Touch Lux 3 ebook reader.
Pocketbook's ereaders are mostly sold in Europe and parts of Asia. They don't show up very often in the Americas, except from places like eBay.
A 3rd-party merchant on Amazon has started selling the ruby red Pocketbook Touch Lux 3.
Currently the price is listed at $109, which isn't bad, but shipping adds an extra $20.75.
There haven't been very many red ereaders on market so the red Touch Lux 3 definitely stands out. Sony used to offer red on a couple of models but they were discontinued awhile ago now.
As far as specs go, the Pocketbook Touch Lux 3 has an E Ink Carta screen with a resolution of 1024 x 758 pixels (212 ppi). It has an LED frontlight, a capacitive touchscreen, page buttons, 4GB of internal memory, and it has a microSD card slot for cards up to 32GB.
It also has Wi-Fi and Dropbox integration and supports a number of formats, including Adobe DRM and ePub and PDF. Check the PocketBook website for the full list of specs and supported formats.