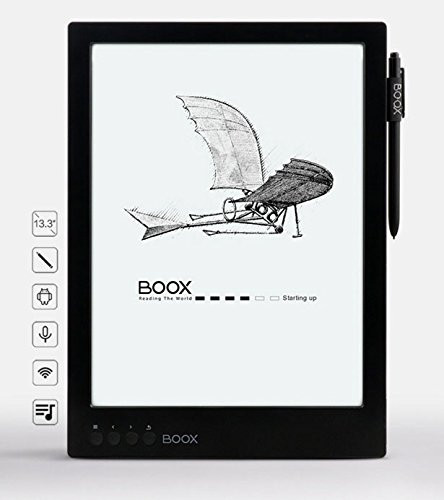 The Onyx Boox Max is one of only a few devices on the planet to feature a 13.3-inch E Ink screen, especially now that the Sony DPT-S1 is no longer available.
Obviously the larger screen is best suited for reading content like PDFs, but since the device runs Android it can be used for all kinds of different things.
Since it's so unique it comes with a high price tag so you don't see the device mentioned often and there are very few reviews online.
Currently the Onyx Boox Max is on sale for $679 from Banggood but that price is expected to go back up in January.
Aside from the large screen, it has some other interesting features as well, including Bluetooth and audio support, and it has a microphone for recording audio. The screen is virtually unbreakable, unlike regular E Ink screens. And it comes with 16GB of storage space, with 1GB or RAM, and there's a microSD card slot for cards up to 32GB.
A user by the name of SuperBrigader has uploaded some new videos showing the Onyx Boox Max in action.
There was a new firmware update issued recently for the Max. This video shows some of the new features. Check the channel above for some more videos.
Onyx Boox Max Update Review