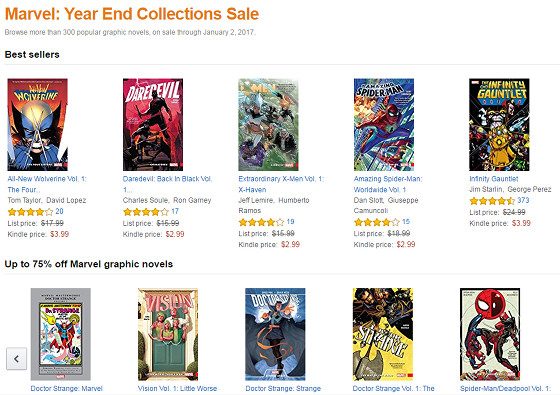 There are still some year-end and holiday deals to be had online.
There's a big sale on Marvel Comics at Amazon, with over 300 titles on sale, including everything from Wolverine, Spider-Man, Doctor Strange, and everybody's favorite, the Unbeatable Squirrel.
They are digital comics, of course, available through Kindle and Comixology. Most are priced at $2.99 to $4.99.
The deal runs through January 2nd, 2017.
Woot has another deal on an older model Kindle Fire HD.
It's the 8.9-inch model, the 2nd generation, and it comes with 4G LTE. They are refurbished units and are priced at $69 for 32GB and $79 for 64GB, which is pretty low considering they have 4G LTE connectivity.
Amazon also continues to have their current Fire tablets on sale, along with the Kindle Paperwhite for $99, but those deals are almost over for the year.