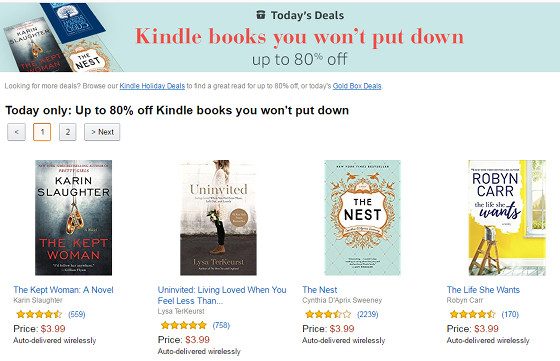 One of Amazon's Deals of the Day takes up to 80% off of a selection of popular Kindle ebooks.
The theme for this sale is "Kindle books you won't put down".
There are lots of highly-rated ebooks on the list, including popular titles like Harper Lee's Go Set a Watchmen and Paulo Coelho's The Alchemist.
The books are priced at $0.99 to $3.99. Once again it's a 1-day only sale.
The year-end sale on Marvel Comics is still ongoing as well until January 2nd.
In other deal news, Amazon is running a promotion where you can get a $10 credit for trying Amazon Music Unlimited, their new music streaming service. It's valid for new customers only. The promo ends at the end of December.
There's another ongoing promotion at Amazon where you can rent any movie for $0.99 using code MOVIE99. Here's the page with the relevant details.
And last but not least, Amazon UK has a deal where you can get a susbscription to Kindle Unlimited for 33% off.