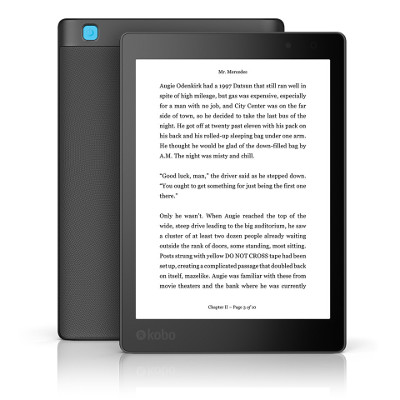 The Kobo Aura One was the best new dedicated ebook reader released in 2016, at least that's how I feel about it (sorry, Kindle Oasis, but the benefit of the larger screen surpasses your expensive charging cover by a mile).
Now there's a way you can get the Kobo Aura One at a steep discount. The promotion lasts until December 31st, but it wouldn't be surprising if they sell out of them before then.
The Aura One is still out of stock from Kobo's website, but Chapters.Indigo sells them from Canada.
The list price is $249 CAD but you can get 20% off by paying with MasterPass.
That takes the price down to 200 CAD, and if your buying from the US, international shipping costs about $16.60 CAD, so after currency conversion that equates to just over $160 USD at the current rate.
Indigo's international shipping is very reasonable and very fast, much faster than the estimated delivery times given.
The last two times I ordered a Kobo ereader from them it arrived in less than one week, and that was with shipping to the US.
One thing to be aware of is that most credit cards charge a foreign currency transaction fee, usually like 3% of the purchase, so that can add a few dollars to the price depending on what card you use for MasterPass, which accepts any major credit or debit card.
Check out my Kobo Aura One review for more details about Kobo's 7.8-inch ereader.
Update: It looks like they are out of stock again already (that was fast). However, the 20% off deal can be used on other products sold by Chapters.Indigo as well, not just the Aura One, and there are other deals too, like $50 off the iPad Mini.
via: SlickDeals