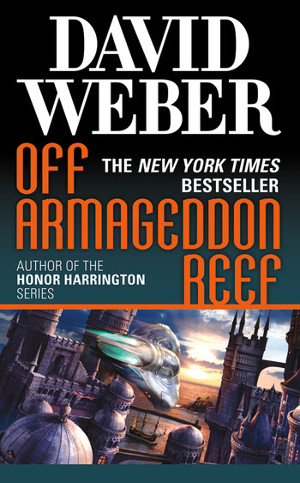 Tor has updated their free ebook offering for this month.
Through January 10th you can download Off Armageddon Reef by David Weber free of charge.
The ebook is available in ePub format as well as Mobi format for Kindles.
Like usual, Tor's ebooks are DRM free so you don't have to worry about dealing with that nonsense.
All that is required to get the free ebook is an email address to sign-up for Tor's monthly newsletter.
Currenly the Kindle ebook sells for $8.99 at Amazon so being able to get it for free is a nice bonus.
Off Armageddon Reef is the first book in an eight book series. It has a 4.1 star rating over 314 reviews at Amazon.
Here's the first couple paragraphs of the description:
Humanity pushed its way to the stars – and encountered the Gbaba, a ruthless alien race that nearly wiped us out.

Earth and her colonies are now smoldering ruins, and the few survivors have fled to distant, Earth-like Safehold, to try to rebuild. But the Gbaba can detect the emissions of an industrial civilization, so the human rulers of Safehold have taken extraordinary measures: with mind control and hidden high technology, they've built a religion in which every Safeholdian believes, a religion designed to keep Safehold society medieval forever….
You can also get some other David Weber titles for free at the Baen Free Library.
Off Armageddon Reef – (Free Until January 10th)