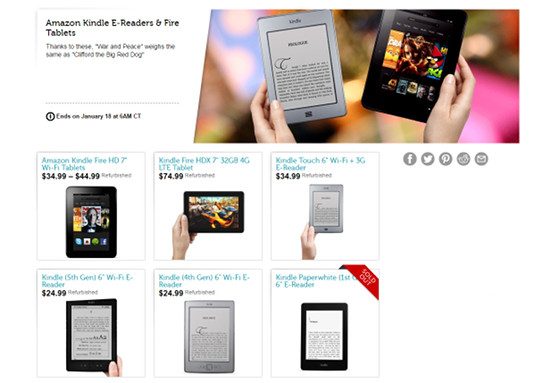 Woot is running another round of deals on refurbished Kindle ereaders and Amazon Fire tablets. They are all previous generation models, not any of the newer devices, but the prices are very low.
You can get a Kindle 4 or a Kindle 5 for only $24.99. Those are the basic Kindles with page buttons instead of touchscreens. Both models are mostly the same except the 4th gen is gray and the 5th gen is black.
An even better deal, they have the original Kindle Touch with free 3G for $34.99.
That model was unique because it was the last to support audio (it has a headphone jack and speakers).
They also have a couple different refurbished Fire tablets on sale.
The 7-inch Kindle Fire HDX is $74.99. That's a pretty good price considering it's the 32GB 4G LTE model.
There's an older 7-inch Fire HD available as well. The 16GB model is $34.99 and the 32GB model is $44.99.
The deal ends on January 18th or until they sell out.
Update: They added the Wi-Fi Kindle Touch to the deal for just $24.99. For some reason they put it in the kids section instead of on this Kindle promo so it's kind of hard to find unless you happen to see it.