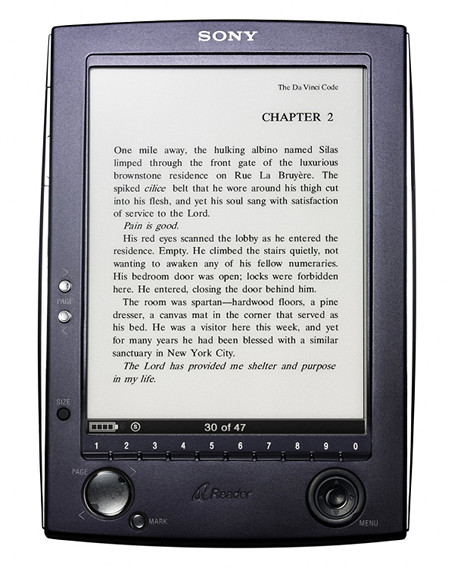 The Sony Reader PRS-500 was the first dedicated E Ink ebook reader to be commercially available in the United States.
It was released over ten years ago now back in 2006, a full year before the first Kindle was released.
The PRS-500 was only on the market for a year before it got replaced by the much more popular PRS-505.
Despite being off the market for nearly a decade, there's still a listing for the Sony PRS-500 over at Amazon.
It caught my attention and I had to take a closer look because I never actually saw one in person since it was discontinued a couple of years before this website launched in 2009.
The Sony PRS-500 is actually a pretty good-looking ereader considering how old it is, even by today's standards. The 1st gen Kindle on the other hand was one of the most awkward-looking gadgets ever invented.
I find it interesting to look back at the PRS-500 to see how it compares with current ebook readers.
At first glance it doesn't look like a whole lot has changed in ten years. Although a little thicker and heavier, the overall size is about the same (it's nothing like comparing the first cell phones with new ones, for example).
The PRS-500 also has a familiar 6-inch E Ink screen, with a resolution of 800 x 600. That's the same as the current entry-level Kindle.
However, the quality and speed of E Ink screens has improved a lot since then so the differences are greater than they would appear. For instance the PRS-500's screen only showed 4 levels of gray and current E Ink screens display 16-levels of gray scale.
Back then battery life was measured in page-turns (7,500 for the PRS-500) instead of "weeks" but overall that's the one thing that's probably changed the least.
The available storage space for ebooks is one thing that has changed a lot. The PRS-500 only came with 64MB of internal storage space, enough to hold up to 80 ebooks! Luckily it had a memory card slot for expansion.
The biggest change since 2006 is the number of ebooks that are available now. Back then Sony advertised a library of over 10,000 titles to choose from.
Sony sold ebooks from their own ebook store and they used a proprietary BBeB format that didn't last long before they transitioned to ePub. The PRS-500 also supported PDFs and it had a headphone jack to listen to music, something most newer models lack.
Looking back, ereaders have changed a lot over the past ten years in some ways but the core concept remains unchanged. 6-inch E Ink screens are still the standard. They still have integrated ebook stores and long-lasting batteries. It's makes you wonder what ebook readers will be like in another ten years—probably not much different than they are now.