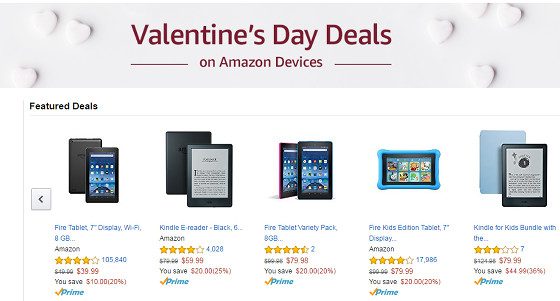 Valentine's Day is coming up on February 14th so Amazon has several of their Kindles on sale, along with the base Fire tablet.
Kindles are marked down by $20. That includes the entry-level Kindle, the Kindle Paperwhite, the Kindle Voyage, and the Kids Kindle bundle.
The Oasis doesn't get in on the deal for some reason.
The Fire tablet is $10 off, down from $49 to $39.
The Fire Kids Edition is $20 off at $79. It's available in blue, pink, and green.
The Kindle Essentials bundles are marked down in accordance with the sale as well, but you can essentially make your own bundle using a 3rd party cover and save even more.
Kindle Sales Links
$59 Kindle – $20 off
$79 Kindle for Kids Bundle – $20 off
$99 Kindle Paperwhite 3 – $20 off
$179 Kindle Voyage – $30 off
Kindle Bundle Links
$94 Kindle Essentials Bundle – $35 off
$139 Kindle Paperwhite Essentials Bundle – $40 off
$234 Kindle Voyage Essentials Bundle – $45 off
Fire Tablet Sales Links
$39 Fire Tablet – $10 off
$79 Fire Kids Edition Tablet – $20 off
$79 Fire Tablet Variety Pack – $20 off
$57 Fire Essentials Bundle – $15 off