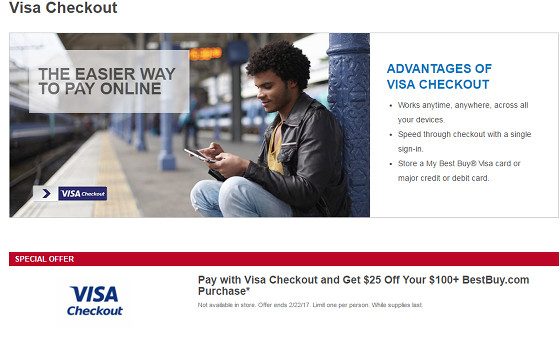 Best Buy is currently running a promotional offer where you can get $25 off any purchase over $100 when using Visa Checkout.
There are some excluded products, including Amazon's streaming and Echo devices, but Kindles and tablets aren't among them.
The deal expires on February 22nd and it applies to purchases made online only.
Here's the link to the landing page for more details and the fine print.
Best Buy sells the current lineup of Kindles and Fire tablets, along with a ton of other tablets.
Plus getting $25 off is better than Amazon's typical $20 off Kindle sales.
And it's the only way to get a discount on the Kindle Oasis since Amazon doesn't put it on sale like the other models.
Best Buy is also having a 4-day sale for Presidents' Day so they have a bunch of other items marked down as well, including the 9.7-inch iPad Pro and iPhone 7.