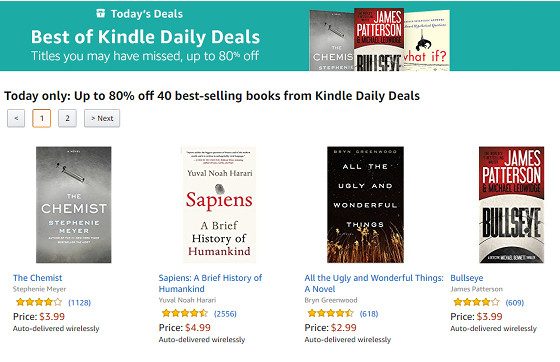 Amazon is doing it again. They're having another big sale on Kindle books for one of their main deals of the day.
They've been doing this often lately but this is probably the best Kindle book sale they've had in awhile.
This time around the deal centers around the best-selling books from previous Kindle Daily Deals.
There are 40 books included on the list, and they're up to 80% off.
Most of the books are priced at $1.99 to $3.99, and there are lots of highly-rated books on the list so now would be a good time to stock up.
Like usual the sale only lasts for one day.
Also, as mentioned yesterday, Amazon has refurbished Kindle Paperwhites on sale starting at $79, which is $40 off the price of a new one. It doesn't get cheaper than that for a 300 ppi ereader with a frontlight.