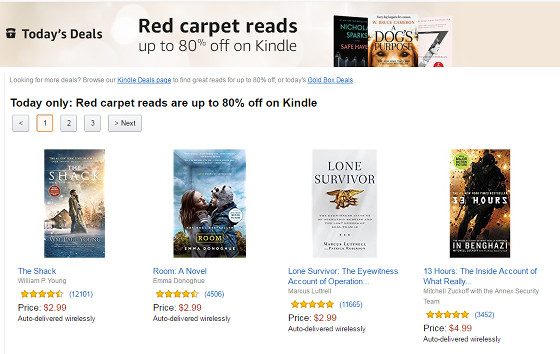 Amazon is running yet another sale on Kindle ebooks today only for one of their main deals of the day.
This time the deal centers around red carpet reads, which makes since with the Academy Awards ceremony going on later today.
There are 41 ebooks on the list, spanning a variety of topics and genres.
Most are priced at $1.99 to $3.99, with a few at $4.99.
There are lots of popular titles to choose from so take advantage of the sale while you can. Like usual it's a one day only sale.
In other deal news, refurbished Kindle Paperwhites remain on sale for $79. That's a great deal for a frontlit ereader with a 300 ppi E Ink screen.
Amazon also has a deal on the 7-inch Fire tablet where you can get 15% off when purchasing two with coupon code FIRE2PACK.
They've also got an older 2nd gen Kindle Fire HD on sale at Woot for $35. But it's so outdated by this time you'd be better off just getting the current Fire tablet for $15 more unless you prefer the higher resolution screen of the older model.