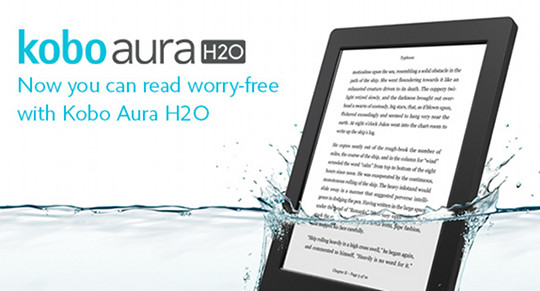 It looks like Kobo has plans to release a 2nd generation Kobo Aura H2O later this year.
Someone at MobileRead noticed a reference to a device called the Kobo Aura H2O Edition 2 in the code for the latest Kobo software update.
Kobo's tendency to add "Edition 2" to newer devices makes it pretty clear that they have a new Aura H2O in the works.
I guess calling it the Aura H2O2 wasn't going to work unless they started selling it with hydrogen peroxide.
The 1st gen Kobo Aura H2O dates back to fall 2014 and is the oldest model in Kobo's lineup so an update makes sense.
But what upgrades could a newer model bring?
Perhaps they'll up the screen resolution to 300 ppi to match other devices, but it already has 265 ppi so a bump of 35 ppi is going to be virtually unnoticeable.
They could add a ComfortLight Pro like on the perpetually out-of-stock Kobo Aura One that lets you customize the frontlight color.
What separates the Aura H2O from other models is the fact that it's waterproof, which is no longer unique now that the Aura One shares that feature as well, and the slightly-larger 6.8-inch screen size.
A new model will most likely have the same screen size as before, but other than that it's hard-telling what changes they'll make.
What features would you like to see in a 2nd gen Kobo Aura H2O?