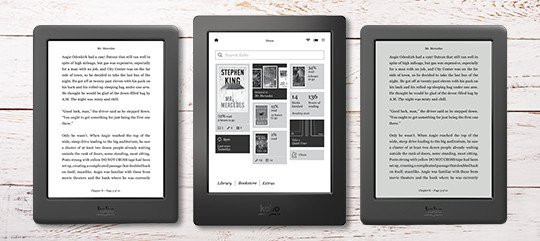 There are some good deals for older Kobo ereaders on eBay.
Some are new, some are open-box, some are customer returns, some are used, but all are good deals for an E Ink ebook reader.
The 5-inch Kobo Mini can be had for $39 new, and the original Kobo Aura with a 6-inch flush glass screen is only $49.
But the Kobo Aura H2O is probably the best deal of the bunch.
They have customer returns available for $99, and new open-box ones for $119.
That's a good price for a waterproof 6.8-inch E Ink ereader with a frontlight and memory card slot. New ones sell for $179.
There are some Kobo Glo HDs available as well for $89 ($119 CAD).
Here's the list of Kobo eBay deals:
Kobo Mini – $38.95 (New)
Kobo Aura – $49.99 (Used)
Kobo Aura – $59.95 (New – open box)
Kobo Glo – $52.95 (Refurbished)
Kobo Touch 2.0 – $59.47 USD – $79.99 CAD (Used)
Kobo Glo HD – $89.21 USD – $119.99 CAD (Used)
Kobo Aura H2O – $99.99 (Used – customer return)
Kobo Aura H2O – $119.99 (New – open box)