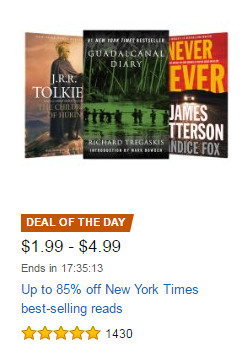 Amazon is having another big sale on Kindle ebooks for one of their main deals of the day.
In fact it's probably the best Kindle book sale of the year so far. They usually only have a few titles on sale, maybe one or two dozen at most, but this time 61 titles are included in the sale.
The theme for today's sale takes up to 85% off New York Times best-selling reads.
The books are priced in the $1.99 to $4.99 range, with many of them going for $2.99.
Like usual it's a 1-day only sale.
On the deals page Amazon is also advertising pre-owned devices but none of the prices really seem that great.
Like the Paperwhite 3, you can get a refurbished one with a year warranty for cheaper so there's no point buying it used at that price.
They're also got a deal with Fire tablets where you can get 15% off with the purchase of three using code FIRE3PACK. It's not as good as their typical sales but it's still better than paying full price.