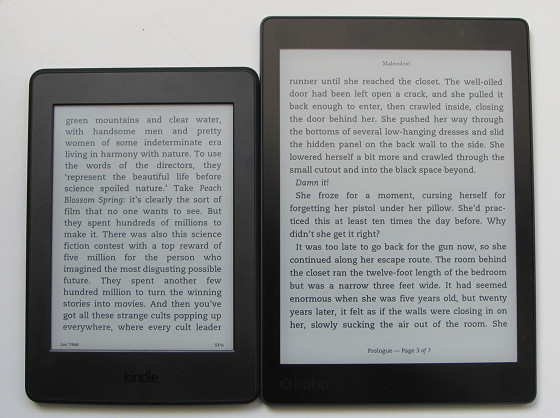 Lots of people have been wishing for Amazon to release a larger Kindle, especially now that Kobo offers the Kobo Aura One with a 7.8-inch E Ink screen that has turned out to be quite popular.
Amazon currently sells four different Kindles and all of them have the same size 6-inch screen, and three of the four have the exact same 300 ppi E Ink Carta screen, so something a little different would be a welcome change.
But how much would you be willing to pay for a larger Kindle?
Amazon's current pricing structure doesn't leave much room for a larger Kindle to be competitively priced with the Kindle Oasis selling for $289 and up.
If Amazon were to release a 7.8-inch Kindle like the Aura One, how much would you be willing to spend?
What if they came out with a 7.8-inch Kindle Voyage, for example?
The current 6-inch Kindle Voyage starts at $199, and it's been on the market since 2014 so it could use a refresh. I think Amazon might be able to get away with charging $299 for an 8-inch version, but $249 would draw in a lot more buyers.
The 7.8-inch Kobo Aura One sells for a very competitive $229, and it's actually closer to $200 USD if you order from Chapters.Indigo in Canada because of the exchange rate, even when paying extra for shipping.
But would Amazon be willing to charge less for a larger Kindle than the Kindle Oasis? Even though it comes with a cover, the Oasis really throws a wrench into the pricing equation.
I doubt Amazon could charge more than $299 for an 8-inch Kindle and have much success with it, especially up against the new 32GB 9.7-inch iPad that's already on sale for $299 at Staples.
At $249 I think a lot more people would be willing to upgrade to a larger screen, but it's hard to imagine Amazon pricing it that much lower than the Oasis. What's your take on the subject? How much would you be willing to pay for a larger Kindle?