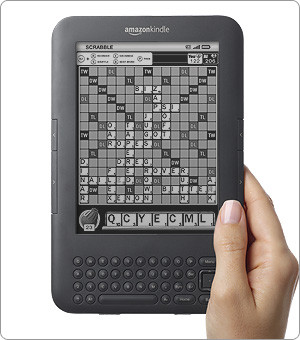 A few years ago there used to be a variety of word games like Scrabble and apps like notepads available for E Ink Kindles that Amazon called Kindle Active Content.
Unfortunately they decided to discontinue offering active content titles on Kindles back in late 2014 when the Kindle Voyage was first released. All new Kindles since then have not supported Kindle Active Content.
Older Kindles still support active content, from the 2nd gen Kindle through the Kindle Paperwhite 2.
Some people complained about the lack of active content on newer Kindles but there wasn't a big uproar about it like some other things.
Once the Kindle Voyage came along with the upgraded 300 ppi E Ink screen, it seemed that Amazon decided it was simply easier to stop offering active content instead of having developers update all their apps to support the higher resolution displays.
Amazon first started offering active content on Kindles back in 2010. That was before everyone owned tablets and smartphones to use with apps.
Today it seems kind of strange to play games and use apps on an E Ink Kindle but it was a common thing like 5 years ago.
Do you miss having access to word games and various apps on your Kindle?