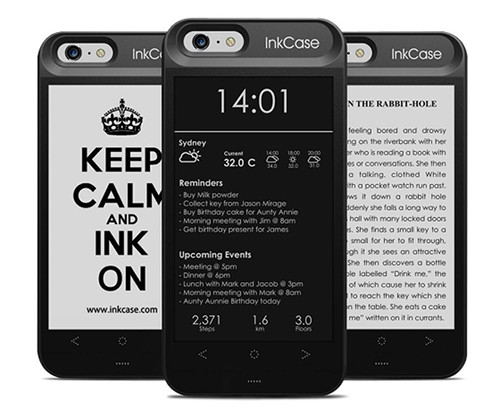 Over the past few years there have been a number of attempts to bring E Ink screens to smartphones.
A few different phones have been released like the Yotaphone with two screens, one E Ink and one LCD, and other companies have tried to capitalize on the success of the iPhone and Samsung phones by releasing specialized phone cases with E Ink screens built-in.
E Ink phone cases seemed like they were going to be pretty popular a couple years ago, but overall the concept has failed to take off.
You don't hear much about E Ink phone cases anymore, and the ones still available have failed to impress customers.
One example, the Oaxis Inkcase sells from Amazon for the iPhone 6 and 7, but they mostly have negative reviews, albeit not many overall.
Most reviews that you find online for the Oaxis Inkcase seem to like the idea in theory, but a lot of people seem to feel the execution of the software falls short so the product ends up not being very useful. There are too many limitations with the app's software, like only being able to use the included ebook app instead of 3rd party ebook apps, for example.
Integrating E Ink screens with complex software has proven to be a difficult task, the same with Android-based E Ink ereaders, but it seems like E Ink phone cases could still find a niche if their usability catches up with expectations.
What about you? Have you ever wanted an E Ink case for your smartphone?