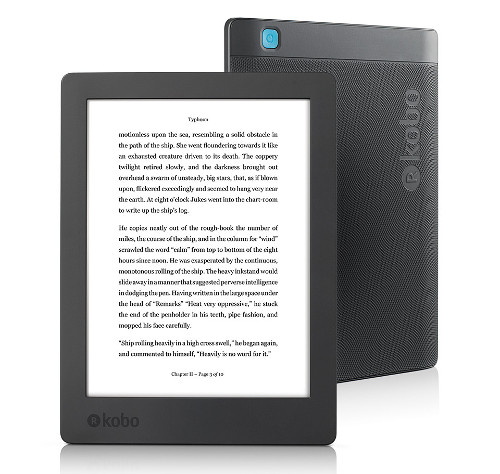 Today Kobo officially unveiled a second generation Kobo Aura H2O ebook reader.
It's largely the same as the previous version but it has a new design and a couple of minor upgrades (and one important downgrade).
The main difference is the new model has a ComfortLight Pro to adjust the frontlight color temperature like the larger Kobo Aura One.
It also comes with twice as much internal storage space with 8GB, but they removed the memory card slot so now none of Kobo's ereaders have one.
The new Kobo H2O is still waterproof, of course, with an IPX8 rating, and it sports the same 6.8-inch 265 ppi E Ink screen as the previous model.
The new design is lighter and more streamlined. The overall weight is 207 grams, down from 233 grams.
Unfortunately neither the product page or the press release mention anything about OverDrive integration for free library ebooks, so it looks like they might be keeping that feature exclusive to the Aura One.
The new Kobo H2O is expected to go up for pre-order on May 15th. The release date is set for May 22nd.
It will sell for the same price as the 1st gen model, so $199 CAD and $179 USD.
Here's more info from the press release about international release dates:
…the device will also be available as of May 22 in the US, the UK, Italy, France, the Netherlands, Spain, Belgium, Switzerland, Japan, and Turkey; as of June in Sweden; as of July in Australia, New Zealand, and Philippines; with Mexico and Brazil to follow later this year.
On a side note, Kobo is currently running a $20 off sale on the 1st gen Kobo Aura H2O and the Kobo Aura, taking the price down to $159 and $99 respectively. If a memory card slot is an important feature for you then you might want to get a 1st gen H2O before they are gone for good. The sale ends May 14th.