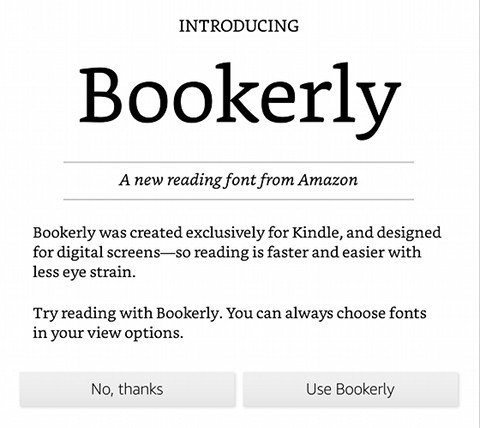 Amazon has improved the fonts on Kindle ereaders over the years, optimizing them for E Ink screens, and they've added a few new font choices in recent years.
Still, one of the biggest complaints about Kindles is the lack of advanced font options.
For instance, Kobo ereaders allow you to fine tune the thickness of fonts so that you can make them bolder if you want.
You can also easy sideload additional font types to use with Kobo ereaders.
Lots of people have been wishing for bolder font choices on Kindles, and finally Amazon listened and added an Amazon Ember bold option in a recent software update.
The only problem is that it's a sans-serif font so if you prefer serif fonts it can be hard to get used to.
Personally, I would really like to see a bold option for Bookerly. I like how Bookerly looks but it's a bit too thin and light. A bold option would be perfect. I mostly use Caecilia lately because it's a bit thicker and darker than Bookerly.
What about you? What's your favorite Kindle font?
Here's the current list of Kindle font choices:
Amazon Ember
Amazon Ember Bold
Baskerville
Bookerly
Caecilia
Caecilia Condensed
Futura
Helvetica
OpenDyslexic
Palatino
You can also embed custom fonts in Kindle ebooks and use the publisher's font option.