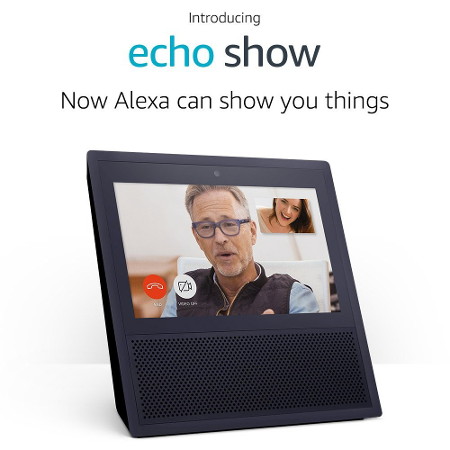 Amazon introduced a new Echo device today called the Echo Show that has a 7-inch screen to add video content to the usual Echo and Alexa assistant features.
It's another example of how Amazon keeps evolving their Echo line of products, unlike Kindles that always seem to stay the same.
When I saw the news that Amazon had a new Echo, it got my hopes up that maybe they'd be announcing new Kindles and Fire tablets as well, but so far that hasn't happened.
The new Echo Show officially gets released on June 28th, so that's still pretty far away.
It sells for $229 or you can bundle two to get $100 off.
The new Echo Show has virtually nothing to do with ebooks, other than being able to read them aloud like any Echo device, but it goes to show that Amazon seems to be a lot more interested in advancing their other product lines than Kindles.
We've had nothing but the same 6-inch Kindles recycled in a new form for the past 6 years. Meanwhile other companies are releasing waterproof ebook readers and ereaders with 6.8-inch screens, 7.8-inch screens, 9.7-inch and 13.3-inch screens.
Why is it that Amazon offers a variety of Echo products, now including one with a 7-inch screen, along with three different Fire tablet sizes currently, but still all we get is 6-inch Kindles? Three of which have the same exact E Ink screen, while the other has a downgraded version from 6 years ago.
Hopefully Kindles will eventually get some worthwhile upgrades too.