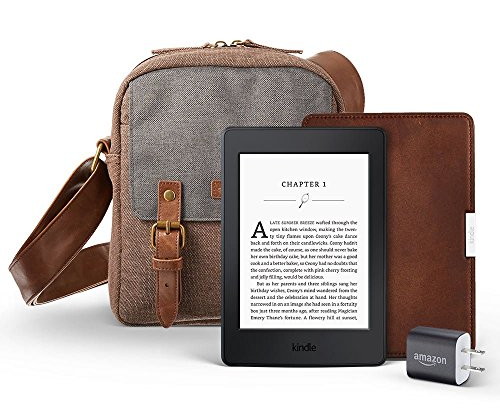 Amazon has some new listings up on their website for Kindle Travel Bundles that come with a premium leather cover, a power adapter, and a travel bag.
The Kindle Travel Bundles are available for the Kindle Paperwhite, the Kindle Voyage, and the Kindle Oasis.
They are currently up for pre-order and officially get released in a couple days on May 15th.
There are four versions of each bundle to accommodate for travel bags that come in four different colors, including black, maroon, brown, and khaki.
With a twist of marketing they are calling the travel bag free, and it has a value of $69.
The price of the bundle includes the Kindle, the premium leather cover, and the power adapter so technically the bag is free, but the values are a bit inflated.
This isn't the first time that Amazon has experimented with Kindle bundles. They also sell Kindle Essentials bundles that come with a regular cover and power adapter. There's also the Kids bundles for the entry-level model, and the Kindle Paperwhite audio adapter bundle.
The Kindle Oasis is the best deal of the bunch because it already comes with a premium cover so the bundle is only $20 more than the regular price.
Here are the links to the new bundle pages; so far there doesn't appear to be a page to purchase the travel bag separately:
Kindle Paperwhite Travel Bundle