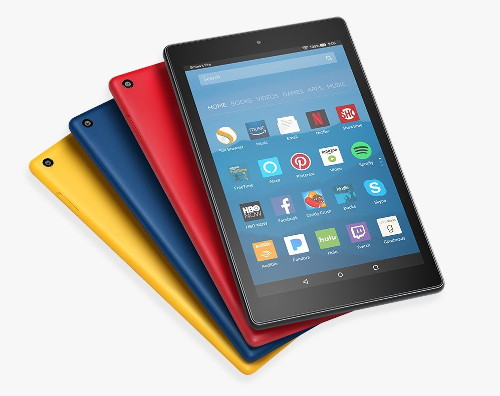 Today Amazon announced the upcoming release of new Fire 7 and Fire HD 8 tablets, along with Kids Editions for each.
The new Fire tablets are up for pre-order right now and they officially get released on June 7th.
The Fire 7 remains $49 and the Fire HD 8 starts at $79.
The Kids Editions are $99 and $129 respectively.
The new 7-inch model features an upgraded IPS screen and it's thinner, lighter, and has longer battery life and improved Wi-Fi, but not much at all has changed with the Fire HD 8.
Both models have microSD card slots and support cards up to 256 GB, up from 200 GB on the previous models.
According to Amazon, the Fire HD 8's battery can last up to 12 hours per charge and the Fire 7 can last up to 8 hours.
Both tablets come with Alexa support, they have quad-core 1.3 GHz processors, front and rear cameras, dual-band Wi-Fi, Bluetooth, and they are available in four color options: Black, Punch Red, Marine Blue, and Canary Yellow.
The Kids Edition models are the exact same tablets but they come with a year of Amazon FreeTime Unlimited, a kid-proof case, and a 2-year worry-free guarantee. Plus they don't come with ads and they are the upgraded versions with more storage space, 16GB for the 7-inch and 32GB for the 8-inch.
New Fire 7
New Fire HD 8
Fire 7 Kids Edition
Fire HD 8 Kids Edition