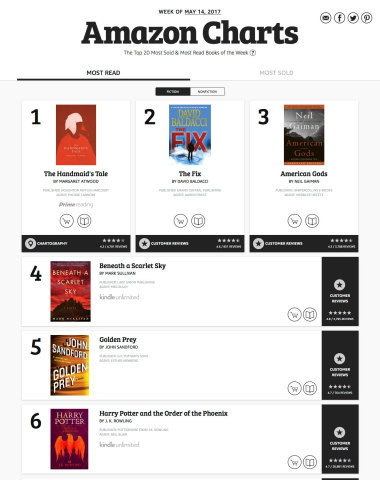 Amazon launched a new kind of bestseller list today called Amazon Charts that tracks the most popular books that people are reading and buying each week across a variety of metrics.
The Amazon Charts list shows the top books read and sold each week ranking the top 20 in both fiction and nonfiction for each.
The Top 20 Most Read list ranks books by the average number of daily Kindle readers and daily Audible listeners each week.
The Top 20 Most Sold list includes books sold and pre-ordered from Amazon, Audible, and Amazon Books, and it also includes books and audiobooks borrowed from Amazon's subscription services like Kindle Unlimited and Prime Reading.
Amazon Charts also reveals insights for certain books, like showing which books were Most Anticipated based on pre-orders and which Kindle ebooks were Unputdownable based on how fast customers finish a book.
So basically Amazon Charts includes data across all reading formats, plus audiobooks and subscriptions, to more accurately reflect the most popular and bestselling books.