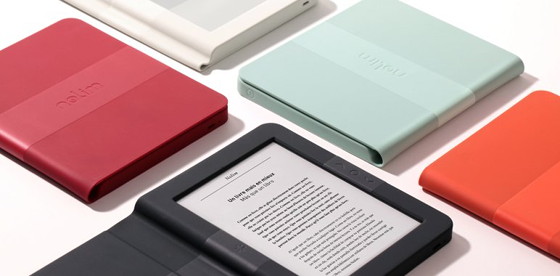 Maker of Cybooks, Bookeen is a French ereader company that has partnered with Carrefour, a large retailer with nearly 12,000 stores worldwide, to release a new Nolim ereader.
The device has an unusual design, with an integrated silicone cover built-in that turns the screen on and off when opening.
The design is meant to partially replicate a paper book, and apparently the silicone casing has a soft feel similar to paper.
They even claim that the Nolim ereader can handle being dropped because of the durable casing, something that is often problematic with E Ink screens since they're so fragile.
The Nolim ereader has a 6-inch E Ink screen with a frontlight but there aren't any detailed specs and the resolution isn't mentioned in the press release or on the product page at Carrefour, where it sells for 119 euros.
The device has Wi-Fi and can download ebooks from the integrated store that has a selection of over 260,000 titles.
It has 4GB of internal storage space and there's a microSD card slot for cards up to 32GB. It has physical page turning buttons as well as a touchscreen.
The Nolim ereader supports ePub, PDF, HTML, TXT, and FB2 formats, including ebooks with Adobe DRM.
Here's a video review in Spanish that I came across on YouTube a couple weeks ago. The design of the Nolim ereader with its blocky shape and integrated cover is quite unusual.
Nolim eReader Video Review