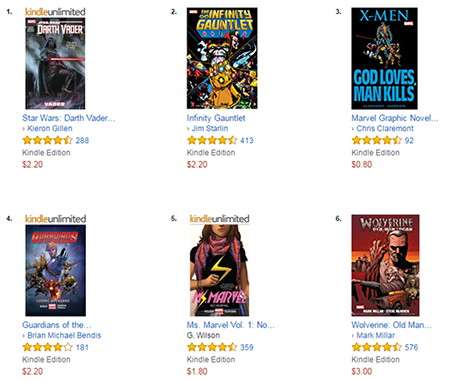 In case you haven't already heard, Amazon is having an epic sale on Marvel comics and graphic novels from the Kindle store.
They have a few thousand Marvel comicbooks marked down by as much as 95%.
Most are only a few bucks, and some are only 80 cents.
It's an unadvertised sale but it's getting a lot of attention online and on social media nonetheless.
The sale started a couple days ago and I didn't think it would last long with those kind of massive discounts but the sale is still ongoing so you might want to take advantage of it before it ends for good.
The main Marvel comics list at Amazon can be hard to search through; here's the list of current best sellers in comics for a look at some of the most popular stuff that's on sale.
The comics are available on Kindle and through the Comixology app.
Apparently some of the comics qualify for a free offer deal when purchased as well. The offer expires June 16th.