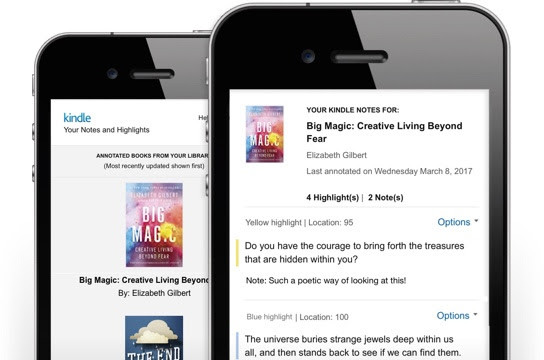 Yesterday Amazon started sending out emails to Kindle customers about a new way to access notes and highlights added to Kindle ebooks.
They've introduced a new mobile-friendly web page that works especially well on phones and tablets, and they've added thumbnails for each book, unlike the old highlights page that was just a wall of text.
Here's where you can access the new page for your Kindle Notes and Highlights.
The old page is still accessible for the time being, but it will no longer be available after July 3rd when they officially switch it over.
The new page has a nicer layout that makes it a lot easier to navigate and find notes for specific books.
You have the option to add notes and delete highlights, you can copy and paste them, and select to open the noted section in the Kindle book.
Amazon suggests bookmarking the page for easy access; I'm surprised they didn't make an app for it. The exact url is below:
https://read.amazon.com/kp/notebook