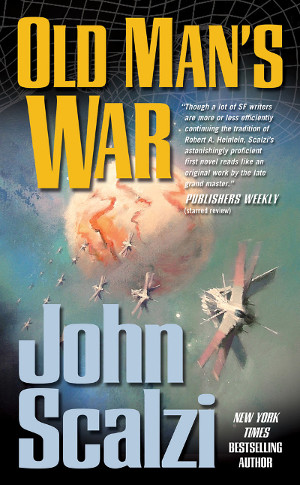 Tor.com is offering another free ebook for the next week as part of their ongoing ebook of the month club that started a year ago.
This month's freebie is a popular military science fiction book called Old Man's War that was written by John Scalzi.
The ebook is free through June 22nd.
To download a copy head over to the Tor website to join their book club, which just requires signing up for a monthly newsletter.
Tor gives you the option to choose a DRM free ePub or MOBI file, so they're conveniently compatible with virtually all ereaders and reading apps, including Kindles.
This ebook currently sells for $8.99 from Amazon so get it while it's free! It has a lot of good reviews, with an overall rating of 4.5 stars.
Here's more about the book:
John Perry did two things on his 75th birthday. First he visited his wife's grave. Then he joined the army.

No joining the army or going into interstellar space until you're at LEAST 75 years old.

Out there, planets to live on are scarce—and alien races willing to fight us for them are common. So: we fight.

Responsible for protecting humanity, the Colonial Defense Force doesn't want young people; they want people who carry the knowledge and skills of decades of living. You'll be taken off Earth, never to return. You'll serve two years in combat. And if you survive, you'll be given a homestead of your own on a hard-won planet light-years from home.