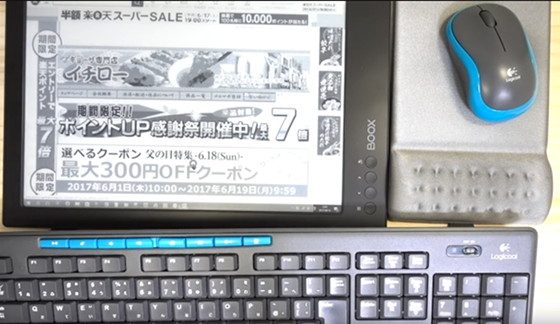 A few new videos have turned up on YouTube showing some different usage scenarios with the 13.3-inch Onyx Boox Max Carta.
One of the videos demos Microsoft Word using an external keyboard and mouse. It appears to work pretty well.
It was done using a remote desktop app to mirror the display on the Max from a Windows computer.
There's another video about using the remote desktop for web browsing and such, and how to use the cocomite app to see the mouse cursor better.
There's also a video showing the Kindle Android app in landscape mode on the Max Carta.
It seems the Max doesn't have a way to switch to landscape mode natively, so you have to install an app to switch.
Like usual, the Kindle app runs fairly sluggish on E Ink but the two page view in landscape for magazines looks pretty cool on the large 13.3-inch display.
The Onyx Boox Max Carta was just released a couple of months ago. It has a higher resolution display than the original Max but is otherwise the same.
Boox Max Carta Microsoft Word
Boox Max Carta Remote Desktop
Kindle App Landscape Mode