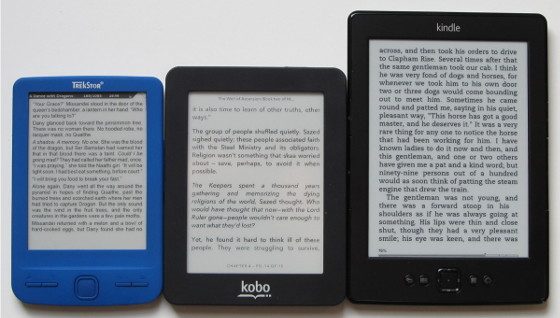 Lately I've been regretting getting rid of some of the smaller ebook readers that I've owned over the years, like the 5-inch Sony PRS-350 and the 4.3-inch Pyrus Mini (pictured left).
Their smaller size made them super portable, especially the Pyrus Mini. It comfortably fit into a pocket so it was easy to take everywhere.
Unfortunately there aren't any ebook readers available anymore with an E Ink screen smaller than 6-inches.
There are a few hybrid devices, like the Oaxis Inkcase and Yotaphone, and you can even buy 4.3″ E Ink screens on Amazon, but there aren't any available as ebook readers.
Not everyone wants a phone with an E Ink screen or a case for a phone. A simple small-screen ereader designed for portability would do just fine.
There used to be quite a few options for smaller ereaders with the Sony Pocket, the Kobo Mini, the Cybook Opus, the Pyrus Mini, and PocketBook 360. Now there's nothing.
There's been more interest and development in larger E Ink ereaders lately, but there's a place for smaller ereaders too. 6-inches is a good average size, but it's still a little too large to comfortably slip into a pocket to take with you everywhere.
Phones and tablets come in a wide variety of sizes so why not ebook readers too?