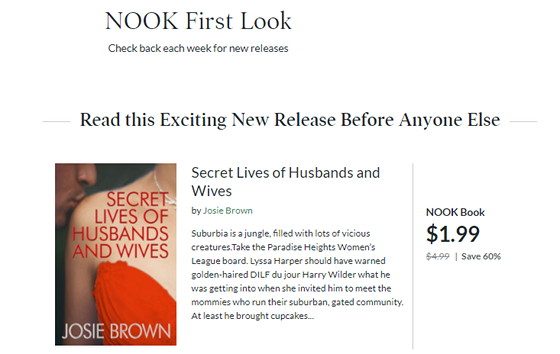 Barnes and Noble recently introduced a new promotion that gives Nook book customers early access to select new release titles.
It's called Nook First Look. It grants access to new releases 2 weeks before they get released anywhere else.
B&N adds new titles to the list each week.
Sometimes the books are also available at discount.
Like this weeks addition, Secret Lives of Husbands and Wives by Josie Brown, is available via Nook First Look for $1.99, but the pre-order price at Amazon and other ebook stores is set at $4.99.
The early release ebooks are exclusive to the Nook store and are available on Nook devices and Nook apps.
It's good to see B&N giving people a reason to buy Nook books over other brands, but the success of the promotion is going to largely hinge on the popularity of the pre-release titles offered.