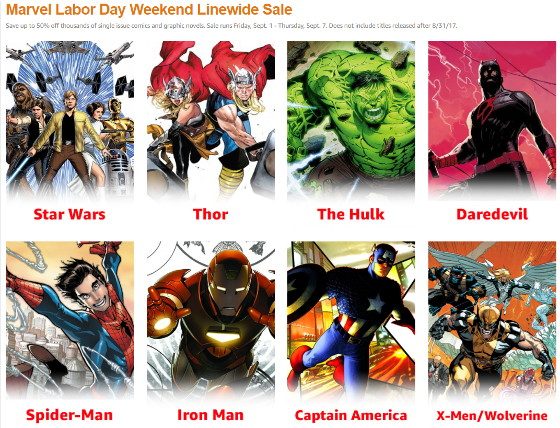 Here are three new Kindle-related sales to kick off September:
Amazon has started offering a deal on Kindles exclusively for Prime Student members. The deal takes $30 off the Kindle and Kindle Paperwhite, and $50 off the Kindle Voyage. The offer expires September 14th and requires a Prime Student membership, which costs $49 per year and is free for the first six months.
There's also a list of Kindle cookbooks on sale today only (September 1st) for one of the Deals of the Day at Amazon.
The Marvel Labor Day Weekend Linewide Sale takes up to 50% off thousands of single issue comics and graphic novels.
The comics sale runs from September 1st to September 7th, 2017.
It's not quite as good as the sale in June that took up to 95% Marvel comics, but 50% off is better than nothing.
The comics are available on Kindle and through the Comixology app.