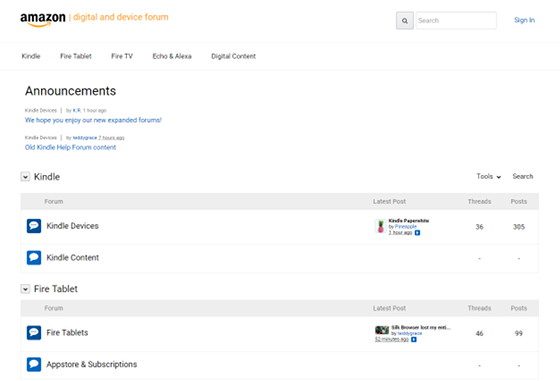 A lot of people probably never noticed because they were kind of hard to find, but Amazon had a Kindle forum and Kindle help forum on their website, along with a number of other discussion forums, but Amazon recently announced that they will be closing them down on October 13th, 2017.
The notice atop the forum pages encourages people to use Goodreads Groups for discussions about books and Amazon Spark for other interests.
They also launched a new forum yesterday for Kindles, Fire tablets, and other Amazon devices and content.
The new forum can be found at Amazonforum.com instead of on the main Amazon website.
There are sections for Kindles, Fire tablets, Fire TV, Echo and Alexa, and Digital Content (Kindle books, Amazon video, music, apps, etc).
It looks like they're still trying to iron out some of the kinks, but it has more of a traditional forum layout and there are more features like being able to embed images in posts and use avatars.
Using the forums requires an account but you can login with your Amazon account instead of having to create a new one.