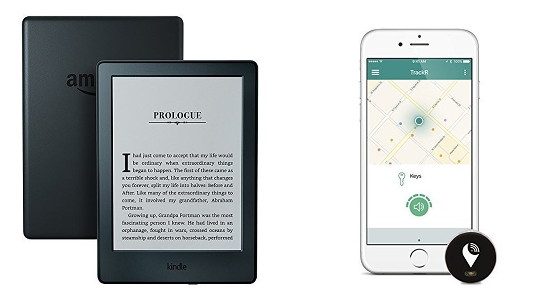 I came across an unusual listing at Amazon yesterday. It seems like it's part of a future promotion that has yet to be advertised or something because there's no mention about it anywhere on any of the Kindle pages.
But if you happen to know just where to look you can find a new page for a Kindle TrackR pixel bundle. The Kindle in question is the entry-level model with Special Offers.
The price is listed at $74.98, which is pretty good considering the Kindle alone is currently selling for $79.99.
The TrackR pixel costs $24.99 at Amazon so the bundle price is basically like getting $30 off the regular price for both.
At this point you're probably wondering what a TrackR pixel is exactly. That was the first thing that I asked too. Well, apparently it's small Bluetooth tracking device that you can put in a wallet, on a keychain, attach to bags, etc.
Then you can use a phone app to track the device's location. You can also press the tracker to make the paired phone ring in order to find it.
I guess it's not a bad idea for bundle if you need to keep track of your Kindle, and at least the price is reasonable, but it's kind of weird how they aren't advertising the bundle anywhere yet.
Update: The day after posting this article, they jacked the price up to the point where there's no difference in buying them separately, making it a pointless bundle deal. They also added more models, including the Paperwhite, but what's the point if they're the same price as buying them separately.