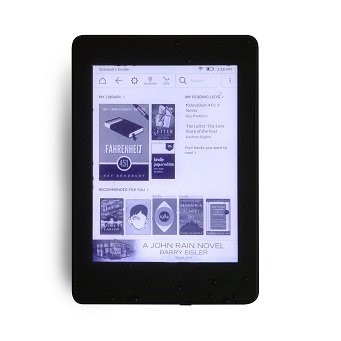 I happened to find a new listing at Amazon the other day for a waterproof Kindle Paperwhite.
It's an aftermarket waterproof treatment applied by a company called Underwater Audio that sells other waterproof products too, mainly iPods.
Their waterproof Kindle Paperwhite sells for $210 at Amazon with free shipping.
That's $90 more than a regular non-waterproof Kindle Paperwhite, but it's $20 cheaper than the Waterfi Kindle Paperwhite, another aftermarket waterproof brand.
I don't see how either of them are going remain viable moving forward now with the new waterproof Kindle Oasis available for $249.
The Underwater Audio folks also fail to mention just how waterproof their version of the Kindle Paperwhite is. All they say it that it is waterproof and resists other liquids, salt, and chlorine with ease.
At least the Waferfi Kindles say they're IPX8 compliant, but then again compliant and certified are two different things.
Regardless, I think it makes a lot more sense to just spend $20-$40 more to get a Kindle Oasis with officially certified waterproofing instead of some expensive aftermarket treatment. The Kindle Paperwhite was just on sale for $89; paying over $200 for a waterproof version just seems kind of nonsensical at this point.