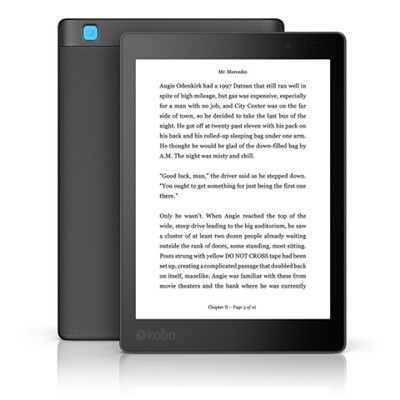 This past week Kobo announced that they're going to be releasing a limited edition Kobo Aura One that comes with 32GB of internal storage space instead of the usual 8GB.
They just happened to make this announcement on the very same day the new Kindle Oasis was released so at least Kobo is showing some competitive spirit for a change.
Now both companies have a 32GB ereader to offer.
Other than the boosted storage space the limited edition model seems to be exactly the same as the regular Kobo Aura One.
However, the 32GB model is only going to be available in the United States and Japan.
In the US it will sell for $279, up from $229 for the 8GB version.
Pre-orders for the limited edition Kobo Aura One will begin on November 29th for Kobo Super Points VIP members. The device officially gets released on December 6th, 2017.
Kobo claims the additional storage space can hold up to 700 manga titles or up to 28,000 ebooks, so for those with large digital libraries you might want to check out the new 32GB Kobo Aura One when it comes out.