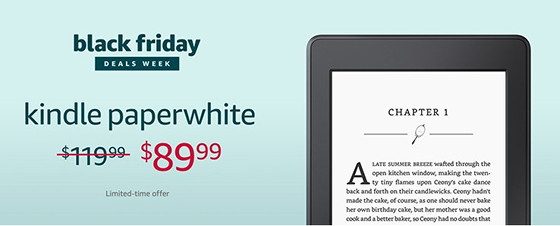 As expected, Amazon is starting their Black Friday deals early, and today marks the beginning of their Kindle and Fire tablet sales.
The best deal of the bunch is the Fire HD 10 for $99. It normally sells for $149 so that's a pretty big discount.
They also have the entry-level Kindle on sale for $49, but the better deal is the Kindle Paperwhite for $89.
The deals run from now through Friday, November 24th.
Refurbished Kindles are on sale as well. You can get one for as low as $39, and the Kindle Voyage is marked down to $119, matching its lowest price ever.
Amazon also has a list of Kindle ebooks on sale today only for one of their deals of the day.
Amazon is advertising the Kindle essentials bundles as being on sale and they come with a $15 ebook credit, but they're really only $20 off the regular price so the deals really aren't that good. You're still paying $50 extra for a cover, a USB charger, and ebook credit. You could buy a 3rd party cover and USB charger for much cheaper than that.
Here's the list of current sales items:
Kindles
Kindle – $49
Kids Kindle – $69
Kindle Paperwhite – $89
Refurbished Kindle – $39
Refurbished Kindle Paperwhite – $79
Refurbished Kindle Voyage – $119
Fire Tablets
Fire HD 10 – $99
Fire 7 Kids Edition – $69
Fire HD 8 Kids Edition – $89
They also have a deal where you can get an extra $10 off the Kids tablets when buying 2 of them.
—