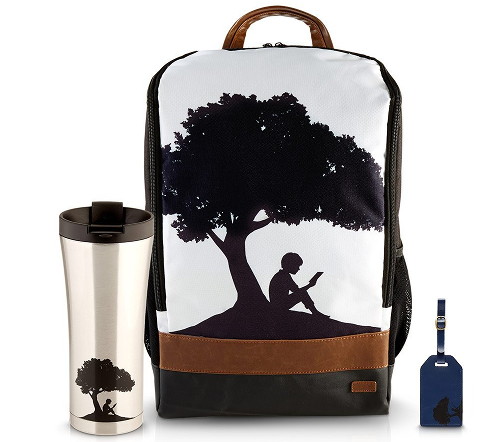 Have you noticed that Amazon is now selling various types of Kindle gear?
Most of it has nothing to do with Kindles whatsoever; mostly it's just common items like water bottles and coffee mugs with Kindle logos on them.
All week Amazon has been advertising new Kindle gear gift bundles on the Kindle Holiday Deals page.
The bundles are quite expensive, as is all the Kindle gear.
There's a Kindle travel mug and Kindle travel bottle for $24.99 each.
There are Kindle luggage tags and different types of bags and a backpack. There's even a Kindle umbrella.
The items have the Kindle logo of a person reading under a tree on them.
It's kind of ironic because Kindle ebook readers don't have a picture of the logo at all. In fact the new Kindle Oasis doesn't even have the word Kindle on it anywhere—it and the official cover both have Amazon logos instead.
The Kindle gear is all being made by caseable, the same company that makes the Kindle travel bag that was released earlier in the year along with Kindle travel bundles that have since disappeared.