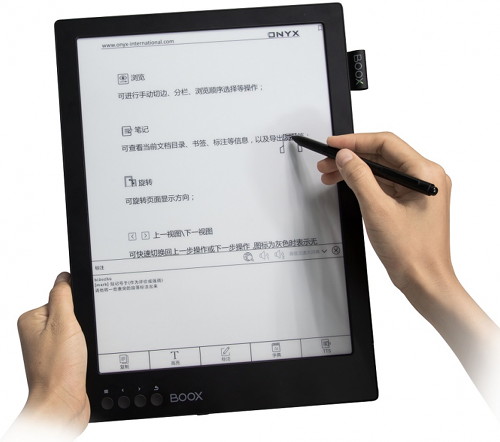 The Onyx Boox Max 2 is getting released this month. A few videos have been uploaded to YouTube from people that have already gotten the device.
Like the previous Max Carta model, the 2nd gen Max has a 13.3-inch E Ink Carta screen with a resolution of 2200 x 1650. It's a flexible plastic-based screen and there is no frontlight.
The Max 2 adds a number of hardware upgrades and it runs a newer version of Android.
Here's the main list of changes with the Max 2 from the Max Carta:
1.6GHz quad-core processor.
Adds a capacitive touchscreen for finger touch.
Upgraded Wacom digitizer for more accurate and faster stylus touch.
HDMI port added for display mirroring.
32GB of storage space with 2GB of RAM.
Android 6.0 OS.
No microSD card slot.
The second video below is a brief comparison between the Max Carta and Max 2. The Max 2 is faster with the quad-core processor and increased RAM, but not by much.
The Max 2 is up for pre-order from eReader Store. It's priced at €671.34 and is expected to ship at the end of the month.
Also the 1st gen Max Carta is on sale at Amazon for $619, and there's an 8% off discount coupon available as well for Prime members. The seller is new and only has a couple of reviews but seems to be legit.
Onyx Boox Max 2 Review
Onyx Boox Max Carta vs Max 2 Video
Onyx Boox Max 2 Review in Chinese